| | | |
| --- | --- | --- |
| | Recipes & Links | |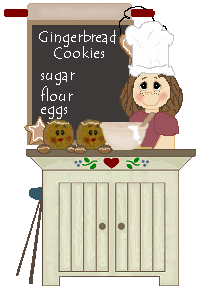 The 12 Days of Christmas Cookies & more




Eggnog Bread

2 eggs
1 cup sugar
1 cup dairy eggnog
1/2 cup butter, melted
1/4 tsp. nutmeg
2 tsp. rum extract
1 tsp. vanilla
2 1/4 cup flour
2 tsp baking powder

Preheat oven to 350 degrees. Grease bottom of bread pan.
Beat eggs, add sugar, eggnog, butter, rum and vanilla.
Pour into greased pan.
Bake at 350 degrees for 45-50 minutes or until toothpick comes out clean.
Cool 10 minutes. Remove from pan.
Cool bread completely before slicing.



Dipped vanillas

1/2 cp butter (no substitutes) softened
1/2 cp ground almonds
1/4 cp sugar
1 tsp vanilla extract
1 cp all-purpose flour
2 tblsp cornstarch
2 squares(1 oz.each) semisweet chocolate
1/2 tsp shortening

In mixing bowl, cream butter, almonds, sugar and vanilla; add flour and cornstarch.
Roll into 1 inch balls; shape into crescents and place on greased baking sheets.
Bake at 375 degrees for 8-10 minutes or until lightly browned.
Cool completely on wire racks.
Melt chocolate and shortening in a micro- wave or double boiler, stir until smooth. Dip one end of each crescent into chocolate; cool on waxed paper.
Refrigerate for about 30 minutes to firm the chocolate.
Yield: about 2-1/2 dozen.


7 Layer Bars

1/2 cup butter or margarine
1 cup graham cracker crumbs
2 cups semisweet chocolate chips
2 cups butterscotch chips
1 cup coconut
1 cup salted peanuts
1 (14 ounce) can condensed milk

Melt the butter or margarine in a saucepan.
Mix with the graham cracker crumbs.
Press the mixture into the bottom of a 9 x 13 inch pan.
Layer the chocolate chips, butterscotch chips, coconut, and peanuts over the graham cracker crust.
Pour the condensed milk over the layers.
Bake at 350 degrees F for 25 to 30 minutes. Cool. Cut into bars.




Unfortunately Sadie is no longer online

Links checked: May 4, 2013



No Right click by Dynamic Drive