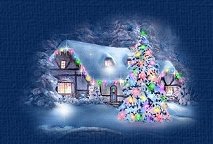 You'll be Home for Christmas

In my mind I see the old Homestead
Wearing a coat of snow
Candles in the windows welcome
All with their warm glow.

Is that the sound of laughter
I hear behind the door?
Ah, to be going home again ..
Home again … once more.

Mama and Daddy and all the rest
Singing by the Christmas Tree
What I would give if just for a while
Things were as they used to be.

Christmas brings back such warm memories
Of people we loved and held dear
If ever we could go home again
It would be at this time of Year.

Merry Christmas to all who are absent,
no matter where you may be
You will be home for Christmas
Here in my reverie.
© Sharon Langan

Used with permission