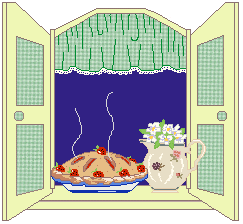 Boterkoek




Description:
Boterkoek is a thin, very buttery cake, a cross between shortbread and cake
and it is served cut into small bite-sized pieces.

Ingredients:
for a 22 cm (9 inch) sandwich tin

250 g (1/2 lb; 1 2/3 cups) plain flour
a pinch of salt
200 g (7 oz; 3/4 cup) butter
225 g (7 1/2 oz; 11/8 cups) castor sugar
a little milk
1/2 cup blanched slivered almonds (optional)


Directions:

Preheat the oven to 225°C/440°F.
Sieve the flour and salt into a bowl.
Cut the cold butter into the flour using two knives.
Add the sugar and knead quickly into a dough.
Press evenly into the base of the tin.
Using the back of a fork, make diagonal lines across the dough.
Brush the surface with a little milk.
Sprinkle with flaked or slivered almonds (optional).
Bake for 15-20 minutes or until golden brown on top, and the inside still moist.
Cool in the tin then cut into small wedges.


Just close this page to go back to my Kitchen