The Airy Aquarius Character



Aquarius THE WATER BEARER is the sign of the thinker.
Aquarians are extremely independent, they just will not be tied down for long.
Their firm views and opinions can change to stubbornness if they are pushed into a corner. Nevertheless they are very faithful and supportive in the right relationship. Even though they may get thoroughly involved within a relationship aquarians need to preserve their privacy and independence.




Birth Chart from Astrolabe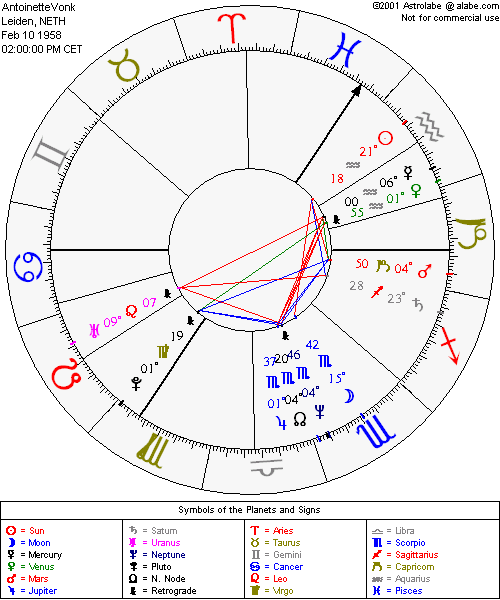 Name: Antoinette Vonk
February 10 1958
2:00 PM Time Zone is CET
Leiden, NETH
Rising Sign is in 11 Degrees Cancer
Very sensitive by nature, you prefer to be in your own familiar surroundings. Cautious and conservative, you make changes in your life only very slowly, if at all. You do not open up easily to strangers. Friendships are made for life, however -- once given, your trust is forever. Your mother, your home as a child and your early family life in general are very important to you. You are also very sentimental. When you feel self- confident, you are gentle, giving and protective of the needs of others. But when you feel insecure or threatened, you become overly sensitive to criticism, shy, withdrawn and moody. You have a strong need for security -- in the sense that you are being loved, nourished and protected.
Sun is in 21 Degrees Aquarius.
You get bored with the status quo and are generally open to new things and ideas. An individualist and a free spirit, your friends are quite important to you as long as they do not try to tie you down by making too many emotional demands on you. Your thoughts are offbeat and you're a bit eccentric, but not always very changeable. As a matter of fact, you can be quite stubborn at times. Very fair-minded when dealing with large groups or broad issues, you are not always emotionally sensitive to the needs of individuals. Extremely objective, with good powers of observation, you would be qualified to study technical and complicated subjects, like science, computers or maybe even astrology.
Moon is in 15 Degrees Scorpio.
Your feelings are very intense, never superficial. You tend to be either very angry or very sad or completely and totally happy. Your moods are deep, extreme and not always completely understood by yourself or by those with whom you have to deal. Emotionally, you tend to prefer to live at the cutting edge of life, pushing your reactions to the ultimate extremes, even if the results are dangerous or upsetting. You are easily jealous and very suspicious -- you require a great deal of emotional reassurance. A good detective, you are very curious about deep and mysterious things, especially human nature and motivations. Be careful not to be ruthless, tactless or too overly frank or you will meet with much resistance from others.
Mercury is in 06 Degrees Aquarius.
You tend to be very opinionated -- you have strongly felt notions about things and are quite vocal about expressing and defending them. Yet you are also an original thinker -- you enjoy shocking others with your offbeat, original thoughts. You appreciate and need mental and intellectual stimulation. Your judgment is usually fair and impartial -- you can be a good critic because you can remain objective and unemotional about most things.
Venus is in 01 Degrees Aquarius.
You are a friendly and outgoing individual, but close relationships are difficult for you to maintain due to your fear that they will cause you to lose your freedom. You attract friends and associates who are exciting, different and sometimes a bit odd. You are popular with others and enjoy working within a group toward group goals.
Mars is in 04 Degrees Capricorn.
Extremely ambitious, you are willing to work very hard to reach the goals you have set for yourself. Very practical, cautious and conservative, you demand tangible results for your efforts. You need to excel in whatever you do, and you have the required sense of responsibility, dedication and self-discipline to bring it about. Beware of your tendency to judge others only by their degree of status and prestige, or by how well they will be able to advance you in your climb to the top.
Jupiter is in 01 Degrees Scorpio.
You love to dig deep beneath surface appearances in order to find out what is really happening. A persistent researcher, you are very interested in the psychology of any situation. You tend to become overwhelmed by the complexity of what you uncover, however, and that makes you a bit gun-shy about explaining things to others. But you must learn to try to communicate as best you can because what you know is really very valuable to others.
Saturn is in 23 Degrees Sagittarius.
Basically quite conservative, you respect traditional authority figures and are very thankful and supportive of the laws and institutions which govern your life. You learn and accept new ideas only after having very thoroughly examined them. Ideals and abstract concepts are important to you only if they can be used in some practical fashion. You are so practical and so orderly that you have natural skills in planning, administrating and organizing.
Uranus is in 09 Degrees Leo.
You, and your peers as well, demand complete and total freedom of self- expression. You want to make your mark in the world according to your own lights and will brook no interference from traditional authority figures, especially if they attempt to mold or shape you in any way. You are honest and forthright, but a bit offbeat and eccentric. The lack of self-discipline may hinder you from reaching your goals as quickly as you would like.
Neptune is in 04 Degrees Scorpio.
You, and your entire generation, are extremely interested in anything deep and mysterious. You will explore and idealize the benefits that can accrue from the study of the occult, healing and psychology. You are willing to experiment with substances like drugs in order to push your understanding of your inner being to the extreme.
Pluto is in 01 Degrees Virgo.
For your entire generation, this will be a time when profound changes in society's attitude toward work, duty and responsibility will be initiated. Radical changes in attitudes toward personal health and general nutrition will be promulgated and gain wide acceptance and practice.
N. Node is in 04 Degrees Scorpio.
You have a special aptitude for working by yourself, or with a like-minded group of dedicated individuals. Once you've committed yourself to a person or group or project, your loyalty and devotion are total until the group's goals have been realized. Not at all gregarious by nature, you're uncomfortable around strangers, greatly preferring to be in known and familiar situations. Others may regard you as shy or eccentric, but those who know you well are aware of the intense loyalty that you have to your friends.
Famous Aquarians:
Alan Alda, Richard Dean Anderson, Jennifer Aniston, Prince Andrew, Anita Baker, Mikhail Baryshnikov, Linda Blair, Christie Brinkley, Garth Brooks, William Burroughs, Ed. Burns, Princess Caroline, Carol Channing, Natalie Cole, Gary Coleman, Phil Collins, Alice Cooper, Cindy Crawford, Sheryl Crow, Charles Darwin, Geena Davis, Ellen DeGeneres, Laura Dern, Neil Diamond, Charles Dickens, Matt Dillon, Minnie Driver, Thomas Edison, Morgan Fairchild, Mia Farrow, Farrah Fawcett, W.C. Fields, Clark Gable, Zsa Zsa Gabor, Kelsey Grammer, John Grisham, Gene Hackman, Arsenio Hall, Gregory Hines, Michael Jordan, Nastassja Kinski, Eartha Kitt, Jennifer Jason Leigh, Jack Lemmon, Abraham Lincoln, Charles Lindbergh, Greg Louganis, Douglas MacArthur, John McEnroe, James Mitchener, Wolfgang Mozart, Paul Newman, Nick Nolte, Kim Novak, Yoko Ono, Joe Pesci, Lisa Marie Presley, Dan Quayle, Ronald Reagan, Burt Reynolds, Molly Ringwald, Vanessa Redgrave, Burt Reynolds, Franklin D. Roosevelt, Rene Russo, Telly Savalas, George Segal, Tom Selleck, Jane Seymour, Jean Simmons, Cybill Shepherd, Jerry Springer, Princess Stephanie, Tiffani-Amber Thiessen, John Travolta, Eddie Van Halen, Ken Wahl, Vanna White, and Oprah Winfrey.