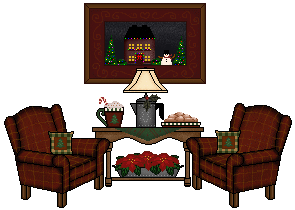 One of the things I like best is surfing the net, looking for Christmas Sites.
It's always interesting to see how other people set up their pages, choose the subjects and the graphics. So many people, so many different styles.

Sometimes I leave a message in a Guestbook, telling the webmaster how much I've enjoyed my visit, but I'd like to show my appreciation in another way. That's why I've made an Award :)

It's not an award with huge prices. You can't win an "All expenses paid, 5* hotel, 15 days trip to Hawaii" with it! It's merely a token of my appreciation for all the hard work you've put in creating a Christmas Home :)

Unfortunately you can't apply for it either! (But signing my guestbook will help to point me in the direction of your site, please don't forget to leave the url for your Christmas Pages!).
I've already seen many Christmas Sites, but I'm sure there are many, many more!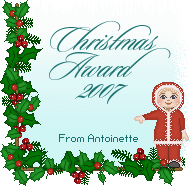 Beautiful Christmas Pages: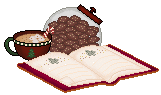 No Right Click by Dynamic Drive

~2002/2013 Sparky's Place~
This page created November 10, 2003
Last updated October 6, 2011